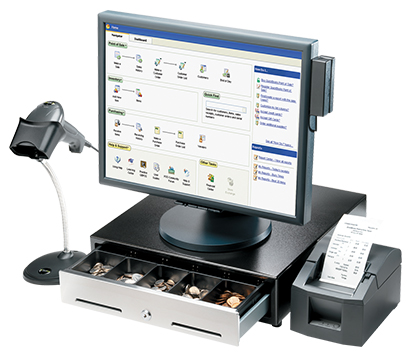 POS Software
Point of Sale Software – QuickBooks POS
Do You Need An Accounting Software For Your Business?
We Sell, Install, Setup & Train Businesses In Nigeria
Call our accounting & technical support centre on 08084219399, 08105090001
Point of Sale Software – Buy QuickBooks POS For Small Business Accounting In Nigeria Kenya Ghana – Terminals Cash Register Barcode Scanner Receipt Printer Sales
POS Software System provides your business with the right tool for monitoring inventory, track sales and print receipt in one place.
If you have been working on pen and paper, I think it's time to upgrade your accounting system so that you can save time and money. With add-ons such as POS Software, Barcode Scanner, Cash Drawer, Credit Card Reader, and Receipt Printer you can save staff cost and get the system to process your business transaction in less time even when you have physical lengthy inventory.
Highlights of POS Software system:
Know what is selling with detailed sales and inventory reports and keep track of customer shopping habits
The product includes POS Software, Barcode Scanner, Cash Drawer, Credit Card Reader, and Receipt Printer.
Accept credit cards on your mobile device. All sales and inventory information instantly sync with your POS software so your records are always accurate and up-to-date.
Save time on everyday tasks. Managing inventory, updating prices, setting discounts, and other time-consuming tasks just take a few clicks instead of hours of work.
Get up and running in no time. Simple setup instructions and tutorials make it easy for you or employees to start ringing sales in no time
Synchronizing POS with QuickBooks:
Here are key items in POS transactions you can sync with QuickBooks financial software.
Customers' record: This covers all new customers' information added to the POS.
Vendors: This covers all product suppliers' information.
Sales: This covers all sales order and sales receipt issues for a specified sync period.
Inventory: You can sync your old inventory records and update your value on hand based on sales made within sync period. When there is a new order for new inventory, you can also Sync with your QuickBooks record
Employees: You can track employee's hours and sync the data with QuickBooks Financials (Optional)
VAT on Sales: You can sync all VAT on sales and transfer to QuickBooks.
In summary, POS software covers sales and inventory related transactions while in QuickBooks financial software, you can record bills and payments and generate a financial report.
Recent search terms:
cost of pos card reader in ghana (1)
how can I get pos software in Nigeria (1)
HOW TO GET FREE POS IN NIGERIA (1)
small business for sale in nigeria (1)
What Business Owners Are Also Reading: