Growing a business isn't all about increasing sales from operating activities, which up till now remains the best strategy to sustain the business, but investing some of the available cash in your bank in safe and secure investment opportunities that generate passive income. After all, your cash is subject to inflationary risk if it is kept in a savings account where interest rates at an all-time low (2-3%) per annum.
The cash generated from sales didn't come in as a donation or gift from customers, you dissipated efforts,  and value to ensure your customers feel satisfied, so a high-risk investment like the stock isn't one you should even consider, rather it is safer to keep your funds in risk-free assets like FGN bonds or CBN Treasury Bills, an investment that is fully backed by the federal government.
As a business owner, you are strongly advised to keep track of all these investments in your books so you can easily track the cash flow, also known as interest income from various risk-free investments. One of the best software for managing "fixed income investments and interest earned" is QuickBooks.
Request For Our Accounting Software Service
For over 5 years, we have implemented QuickBooks for several companies under Retail, Manufacturing, Oil & Gas, Real Estate & Construction, Travels, Hospitality,Legal, Co-operatives, NGOs, Financial & Service Sectors.
Mbaire Services Nigeria Ltd(Construction)
Chisco Transport Limited(Transport)
Lounge38(Hotel and Bars)
CTRL System Technologies Limited(Procurements)
Aristokrat 360 Limited(Creative & Media Agency)
Alpha Pharmacy (Health Care & Supermarket)
Ericsson Nigeria Multipurpose Co-operative Society (Co-operatives)
Fastanet Limited (ICT and Security)
Britanic Maritime (Maritime Service)
CEO Business Limited (Salary Advance, Credit Finance and Loan)
OneHealth Pharmacy (Health Care)
Olpharm Pharmacy (Health Care & Distributor)
Hawkes Legal(Legal)
Kantessa Limited(Fashion Store)
OPI Nigeria International Limited (Oil & Gas Servicing)
Zenilum Company Limited (Oil & Gas Servicing)
Lilygate Hotel(Hospitality)
Benstel Nigeria Limited(Bottle Water Production & Distribution)
Paraclete Nigeria Limited (Bottle Water Production & Distribution)
Josien Holdings Limited(Distribution)
Aisha Buhari Foundation (Futured Assured)(NGO)
Doheney HR Services(HR)
Insights Limited(Health Consultant)
Biddel Oil & Gas Limited (Oil & Gas)
System Intelligenz Limited(Contractor)
MagTech Information Security (IT)
Infusion Cakes Nigeria (Bakery)
Landmark Centre (Event Centre)
M.D School (Private School)
Travel Options (Travels)
Logos Travel Support & Solutions Ltd (Travels)
Germaine Auto Centre (Autos)
Starlight Nigeria (Retail)
Temple Private School (Education)
Value Mart Supermarket (Retail)
Transweb Bureau De Change (Financial Service)
Vektro Food Limited (Manufacturing & Retails)
Orient Petroleum PLC (Oil & Gas)
Plus More
We had just helped a corporate society, who invest members' savings/thrift primarily in CBN Treasury Bills and Fixed Deposit with interest paid upfront into the account, migrate their 12-months transactions from excel into QuickBooks Online.
Here are three scenarios, we treated during the data migration:
Investment in Treasury Bills with Interest paid upfront.
Rollover of maturing investments with interest.
Additional investment in Fixed Deposit/Treasury bills
Liquidation of existing holdings on maturity
Basic Setup:
The relevant bank accounts have been set up to track all fund flows in and out of the account while CBN Treasury Bills/Fixed Deposit investments are added to the "Chart of Account" under Assets.
Investment in Fixed Deposit/Treasury Bills with Interest Paid Upfront
All investment in Treasury Bills is treated under the "Write Cheque Window" where payment is debited from a specific bank account and moved to the investment account, depending on the amount invested.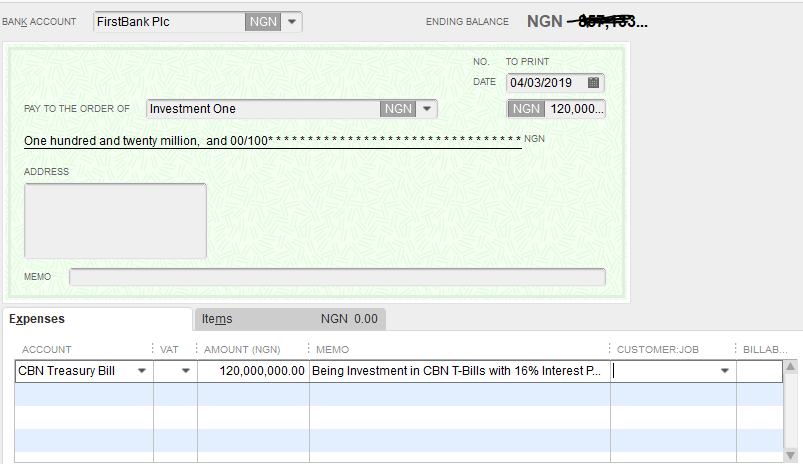 The interest paid upfront was also treated accordingly using "Journal Entry" as thus:

For interest received into the bank account but wasn't fully earned in the current financial year, we had to prorate the interest using the maturity period to ascertain the amount to be recognized in the current year while the balance is treated as income received but no earned (under current liability) until the investment matures.
For instance, assuming the CBN T-Bills is for 365 days but the financial year end period from the start of the investment is only 100 days.
(100/365) x N19,200,000 = N5,341, 600.
The balance of N13, 858, 400 is treated as "Income Received but Not Earned".

Rollover of maturing investments.
We were also informed that a mail is sometimes sent to the asset management company requesting that the CBN Treasury Bill investment and interest earned, upon maturity, be rolled over to the subsequent period.
For T-Bills rolled over, we used the same "Journal Entries" to pass the necessary entries so that the principal is re-invested while interest is earned on the new investment.
Additional investment in Fixed Deposit/Treasury bills
The procedure for treating investment in TBills and fixed deposit also applies to additional investment. On your report, the value of the investment should reflect the current amount invested so far.
Liquidation of existing holdings on maturity
On fixed deposits liquidated before or on maturity, we cleared the investments account with the value of the liquidation and transferred the value to the receiving bank.

If you need additional guide on how to treat your investments in QuickBooks, feel free to connect with us at info@accountingsoftware.com.ng or bigresourcessolutions@gmail.com