Our strategic team of accounting and financial software professionals have been working on resolving the biggest challenges of our fast-growing clients in retail, distribution, real estate, hotel, and travels, etc. We tagged it the biggest because it doesn't just hinder them from keep their cash flow in check but also seen as a major test of how accurate their accounting software transaction entries have been. Every day, we receive inquiries from business owners, CFOs, accountants on how they can fast track their bank reconciliation processes especially when they have a backlog of past receipt and payment transactions to treat and properly track.
A few weeks ago, this was a major setback for one of our clients that recently bought QuickBooks but would like 2015, the year they commenced business to be the opening balance; they already had past transactions for two (2) years; invoice in excel, receipts and cheque transactions on their bank statements. The choice of opening balance date was tied to a major private equity company that wanted to invest in the company but needed to review their transaction histories. There is absolutely no way you can convince them to use a current opening balance, so we had to commence the process of developing our in-house bank transactions import software tagged: Bank Statement Pro.
---
With Bank Statement Pro, You don't have to wait for month-end reconciliations again. 
Contact us for pricing and setup – Call 08105090001 or mail at info@accountingsoftware.com.ng
Request For Our Accounting Software Service
For over 5 years, we have implemented QuickBooks for several companies under Retail, Manufacturing, Oil & Gas, Real Estate & Construction, Travels, Hospitality,Legal, Co-operatives, NGOs, Financial & Service Sectors.
Mbaire Services Nigeria Ltd(Construction)
Aristokrat 360 Limited(Creative & Media Agency)
Hawkes Legal(Legal)
Lilygate Hotel(Hospitality)
Josien Holdings Limited(Distribution)
Aisha Buhari Foundation (Futured Assured)(NGO)
Doheney HR Services(HR)
Biddel Oil & Gas Limited (Oil & Gas)
System Intelligenz Limited(Contractor)
MagTech Information Security (IT)
Infusion Cakes Nigeria (Bakery)
Landmark Centre (Event Centre)
Mountain Ice Travel & Tour (Travels)
BTS System (Service)
Logos Travel Support & Solutions Ltd (Travels)
Germaine Auto Centre (Autos)
BD Consult (PR)
Starlight Nigeria (Retail)
Temple Private School (Education)
C. Charles Resources Limited (IT consulting)
Adeniyi Coker Consultants Limited (Real estate and construction)
The Nigerian Economic Summit Group (NGO)
Value Mart Supermarket (Retail)
Transweb Bureau De Change (Financial Service)
Wakanow Travels (Travels)
Vektro Food Limited (Manufacturing & Retails)
Orient Petroleum PLC (Oil & Gas)
Plus More
---
Bank Statement Pro is a flexible bank transaction import application specifically developed to help you save time and improve productivity; you can easily upload the bank statements of any Nigerian bank in excel, map the relevant column on their excel to their corresponding heads in QuickBooks and sync all transactions to their appropriate account. Even a novice outside the field of account can use the software, as It doesn't need any special accounting knowledge or skill.
The software does not only reconcile your bank statement with QuickBooks but is designed to track every inflows and outflow in your bank statement, map them to their respective account heads in QuickBooks and eliminate the need for month-end reconciliations since all transactions have already been taken care of.
Reconciliation is a task every business owners, CFOs, accountants, and finance managers must carry out if they truly want to understand their cash positions, track actual profit or loss and generate a reliable financial report. But what if you already have a software that already records every line deposits to your bank accounts and withdrawals from the same accounts on a daily or weekly basis, do you think reconciliation is necessary? No! that's exactly why we developed "Bank Statement Pro".
Whether you have one or multiple banks to import transactions from, Bank Statement Pro can help you save time on importing high volume transactions; we always advise that you do daily or weekly transaction imports.
Though we are still improving the financial application to connect directly to your bank via an API, for now, you can only import bank transaction statement from excel. What this means is that any time you want to import bank transactions, you need to download it in excel from your internet banking application or contact your account officer to send a weekly statement.
Whether you are want to import your GTBank, Skye, FCMB, Fidelity, EcoBank, FirstBank, Heritage, Diamond Bank, Unity Bank, Union Bank, Wema Bank, Zenith Bank, UBA or Stanbic IBTC Bank statement into your accounting software, Bank Statement Pro is here to help you do that.
Bank Statement Pro works with any version of QuickBooks software to accommodate older releases from 2013 to date. We strongly recommend an upgrade if you are using an older version so you don't miss out on the recent data file and security updates from Intuit Inc.
Importing your banking statement into QuickBooks Using Bank Statement Pro: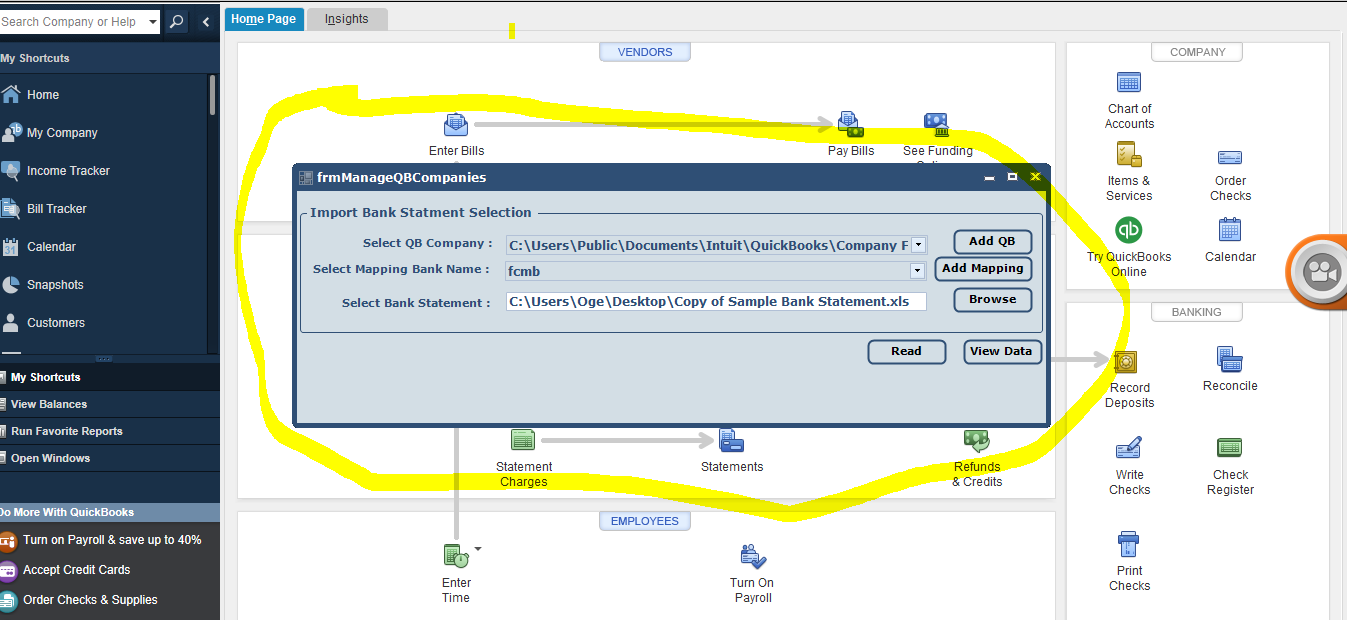 This is Bank Statement Pro, a simple application that is able to read the column for customer's deposit payment and cheque payments from your bank statement and automatically post into QuickBooks accounting software. Here, we picked a client's statement from FCMB and ran an import.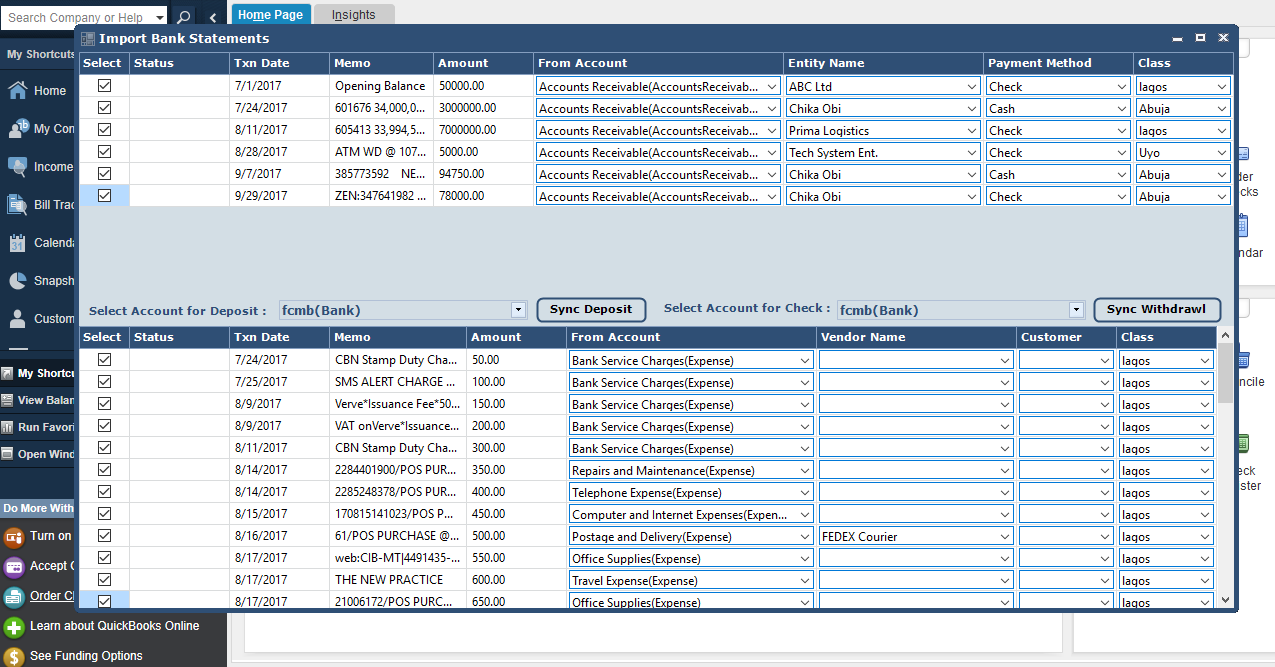 This is a display of your bank statement ready for direct import into QuickBooks. What other methods would you want to use in saving time on multiple bank reconciliations than to call our support expert for Bank Statement Pro on 08105090001?
Recommended QuickBooks Software With Genuine License Details:
Order Now, Call 08105090001, 08084219399
Recent search terms:
barclays business download into accounting software (1)
What Business Owners Are Also Reading: