The business of credit and asset purchase financing is one that requires effective bookkeeping especially when you have a larger chunk of your capital already advanced to customers as a loan with expected interest income.
An accounting software deployed for SMEs in this line of business will not only help management understand the company's financial positions but also see their profit or loss position. But, here is the point for businesses in Nigeria, real-time customers' balances and bank reconciliation remain a key issue to address.
This was the major problem a client encountered whenever they approve a short-term loan receivable in 3-6 months. On several occasions, customers will make credit transfers to their bank accounts but credit officers, who are in charge of tracking re-payments do not have a direct access to the company's bank statement, miss such payment as they aren't notified of these payments. The customers, on their assumption that payment will be recorded against their loan and interest payable, felt reluctant to follow up.
Request For Our Accounting Software Service
For over 5 years, we have implemented QuickBooks for several companies under Retail, Manufacturing, Oil & Gas, Real Estate & Construction, Travels, Hospitality,Legal, Co-operatives, NGOs, Financial & Service Sectors.
Mbaire Services Nigeria Ltd(Construction)
Aristokrat 360 Limited(Creative & Media Agency)
Alpha Pharmacy (Health Care & Supermarket)
Hawkes Legal(Legal)
OPI Nigeria International Limited (Oil & Gas Servicing)
Zenilum Company Limited (Oil & Gas Servicing)
Lilygate Hotel(Hospitality)
Josien Holdings Limited(Distribution)
Aisha Buhari Foundation (Futured Assured)(NGO)
Doheney HR Services(HR)
Biddel Oil & Gas Limited (Oil & Gas)
System Intelligenz Limited(Contractor)
MagTech Information Security (IT)
Infusion Cakes Nigeria (Bakery)
Landmark Centre (Event Centre)
Mountain Ice Travel & Tour (Travels)
BTS System (Service)
Logos Travel Support & Solutions Ltd (Travels)
Germaine Auto Centre (Autos)
BD Consult (PR)
Starlight Nigeria (Retail)
Temple Private School (Education)
C. Charles Resources Limited (IT consulting)
Adeniyi Coker Consultants Limited (Real estate and construction)
The Nigerian Economic Summit Group (NGO)
Value Mart Supermarket (Retail)
Transweb Bureau De Change (Financial Service)
Wakanow Travels (Travels)
Vektro Food Limited (Manufacturing & Retails)
Orient Petroleum PLC (Oil & Gas)
Plus More
At the end of the loan tenor, account officers send a payment notice to the customers with the amount due but customers, upon a request for a statement of account, discovers that there was a difference in balances following the non-recognition of some payments. In order to trace the differences, the accounting officer contacted the bank for a statement to cross-check and found credits that were missing in the statement. These had been going on for long until we propose an application called "Bank Statement Pro."
Our bank statement pro didn't just close the gap by proving the credit officer the flexibility of importing multiple customers' payment into QuickBooks accounting software but also eliminated possible conflicts by reconciling all loan balances on the company and customer's end.
When customers pay into the company's bank account, it reflects in their weekly statement of account downloaded from the bank's mobile banking platform which is then recognized at the point of import via "Bank Statement Pro" and mapped to the respective customers' name in QuickBooks for real-time reporting.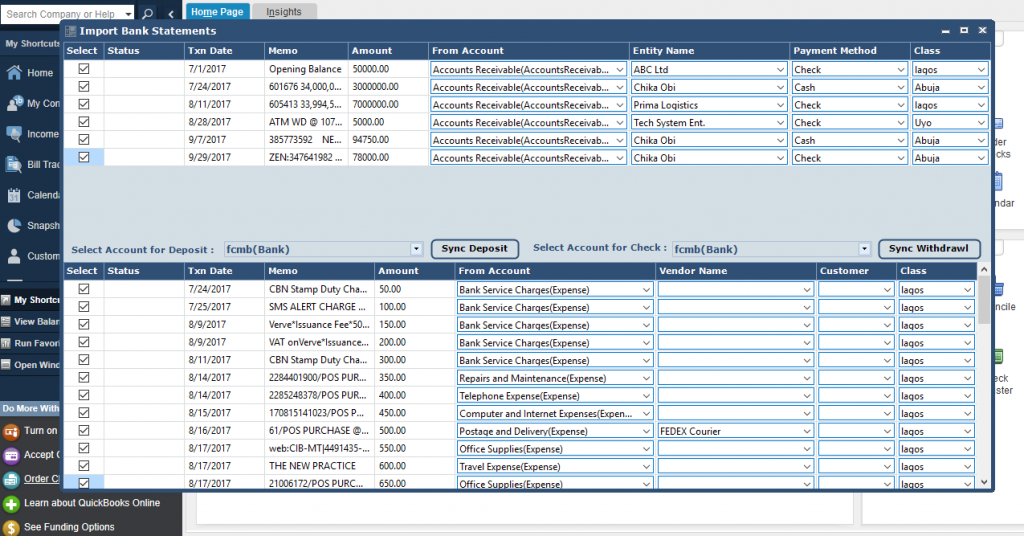 This is a typical example of how bank statement pro is helping a loan company track cash flow; all transactions arising from loan and interest re-payment are now synced into QuickBooks to generate an accurate loan receivable report, customers are better informed of their actual balances when they request for a statement of account.
If you run a retail or corporate loan or credit services and would like to automate your accounting system, connect with us at info@accountingsoftware.com.ng or call 08105090001, 08084219399.
Recommended QuickBooks Software With Genuine License Details:
Order Now, Call 08105090001, 08084219399
What Business Owners Are Also Reading: